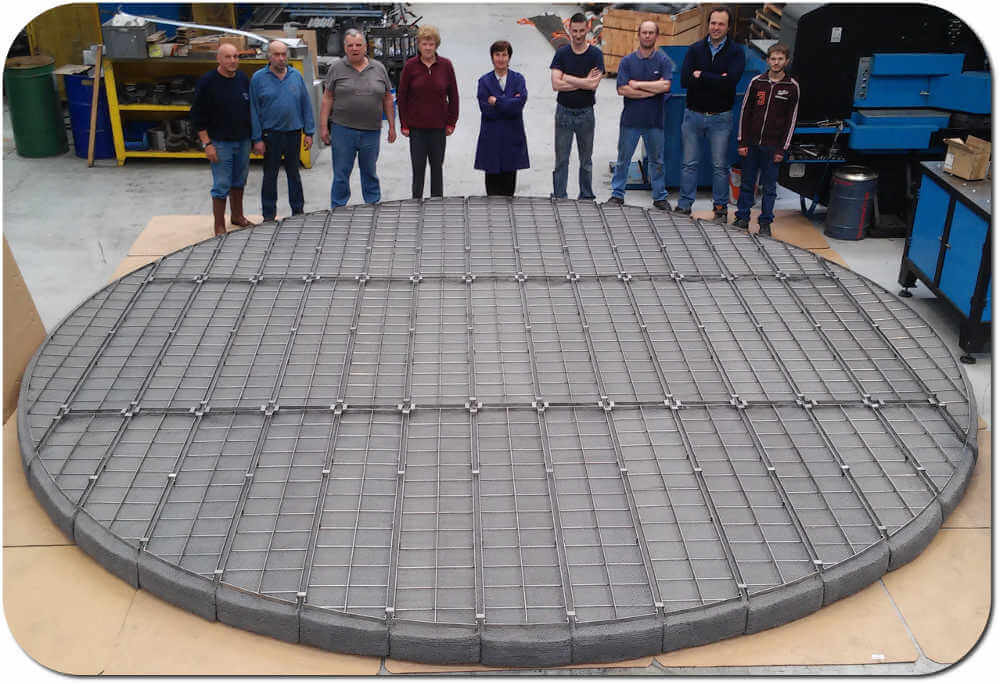 Wire mesh demister with 6m diameter for a process column
- DESCRIPTION -
Wire mesh demisters are widely used when a effective separation between liquid and solid phase is very important in order to obtain cheap and efficient industrial processes.
This kind of separators are made by a alveolar structure of wire mesh obtained by the superposition of several layers of a tubular sock. This sock is weaved by very thin wires (usually with a diameter inferior to 0,3 mm) and that allows to obtain a structure with high free volume (usually > 95%), a big active surface with a low density of the mesh allowing a saving about used material and costs.
Wire mesh separators are used for example:
- to purify gasses;
- to eliminate liquids that could damage the production processes;
- to prevent problems to the plant structures;
- to prevent dangerous emissions for the environment;
- to recover expensive liquids
- ADVANTAGIES -
- Easy installation and moving through man holes and small spaces.
- High efficiency of the separation process with low pressure drop.
- Reduction of the vessel's dimensions with less working costs.
- Less costs if compared with other separation methods.
- ACCESSORIES -
Wire mesh demisters are often supplied with accessories like boxes, extractors and fixing systems with every kind of round, tube, sheet or other profile. Among the most common there are:
- Support grates used to contain the mesh pad between them.
- Containment meshes usually used to contain the wire mesh inside the support grates.
- Elements for fixing systems like: L bolts, J bolts, fixing wire.
- Superficial treatment: every welded material could be treated with a passivation process in order to eliminate all the residues of welding and to avoid a corrosion effect due to an aggressive environment.

_______________________________________

- AFP Tech Srl -
Registered office: Via Campagnola 30/A, 23854 - Olginate (LC) – Italy
VAT number: 03292570136 / Tax Code: IT 03292570136 / R.E.A.: n° 312452
Capital: Euro 50.000,00 i.v.
Phone: +39-0341-604625 - Sales office: sales@afptech.eu - Mobile: +39-339-6855147